Since I am ending my weeks on Sunday, theoretically the first week of this year both began and ended on the first.  Not wanting to break my New Year's resolution right out of the gate, I did what anyone would have done, I made corn chowder for the Sunday communal meal at the Buddhist-Mongolian Cultural Center in Bloomington, IN.  It is sort of cheating, but hey – I made something in one day – right?  Here is sort of the rough recipe, which doubled served about fifteen people comfortably.

Ingredients: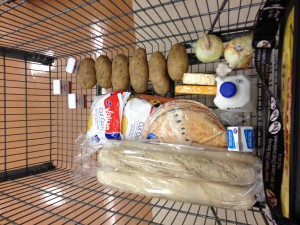 For each pot of chowdah, you will need:
3 Large Potatoes
1 Large Onion
2 Large Carrots
2-3 Cloves of Garlic
1 Bag of Cut Corn
A Goodly Amount of Milk
1/2 Cup of Cream
Fragrant Spices
Dried Herbs
In addition to that, delicious cheese and half-baked bread never hurt nobody.  Pardon the frozen pizzas, but we were afraid we would run out of chowder.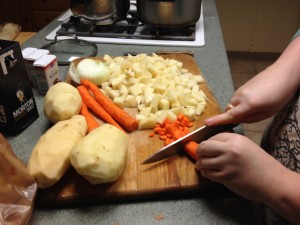 Next up – Prep!
Scrub those potatoes, peel those potatoes, peel and chop your onion and carrot, smash the ever-loving hell out of some garlic!
FYI – carrots chop a lot quicker if you quarter them lengthwise most of the way through before chopping them crosswise.
The Cooking Begins!
Put some oil, butter, or any kind of fat you have, about a tablespoon into your pot and melt.  Add to this the onion and mashed garlic, and saute over low heat.  You want the onions to sweat real nice, so put some salt on top, and wait for the mixture in the pan to get  a little bit juicy.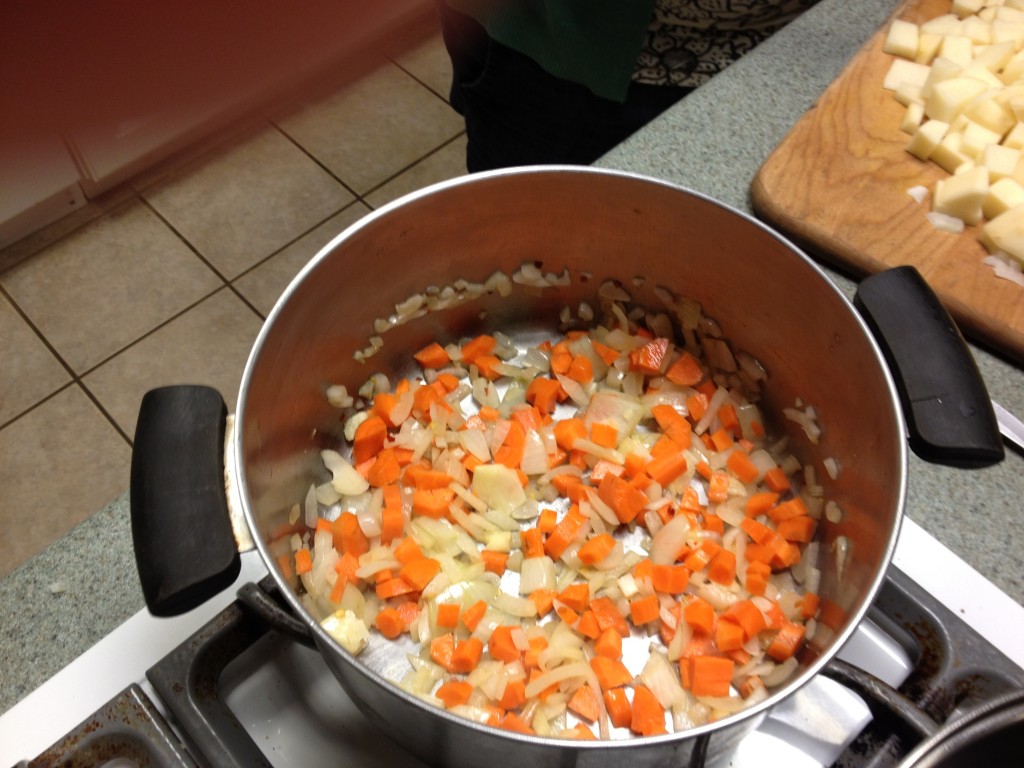 Add the carrot, and cook a couple of minutes more.  Salt the carrots as well – this opens up the flavor some.  Just a pinch – don't overdo it!  Look at your sexy saute pan!
Makin' Dah Chowdah
Now is time to make the bulk of your soup.  Add your potatoes and corn to the pot, along with the cream, and add enough milk to cover your veggies.  Add any seasonings you like – I always add three kinds to mine.  First the fragrant spices which consist of things like Turmeric, Saffron, Paprika, Cloves, Nutmeg, Ginger.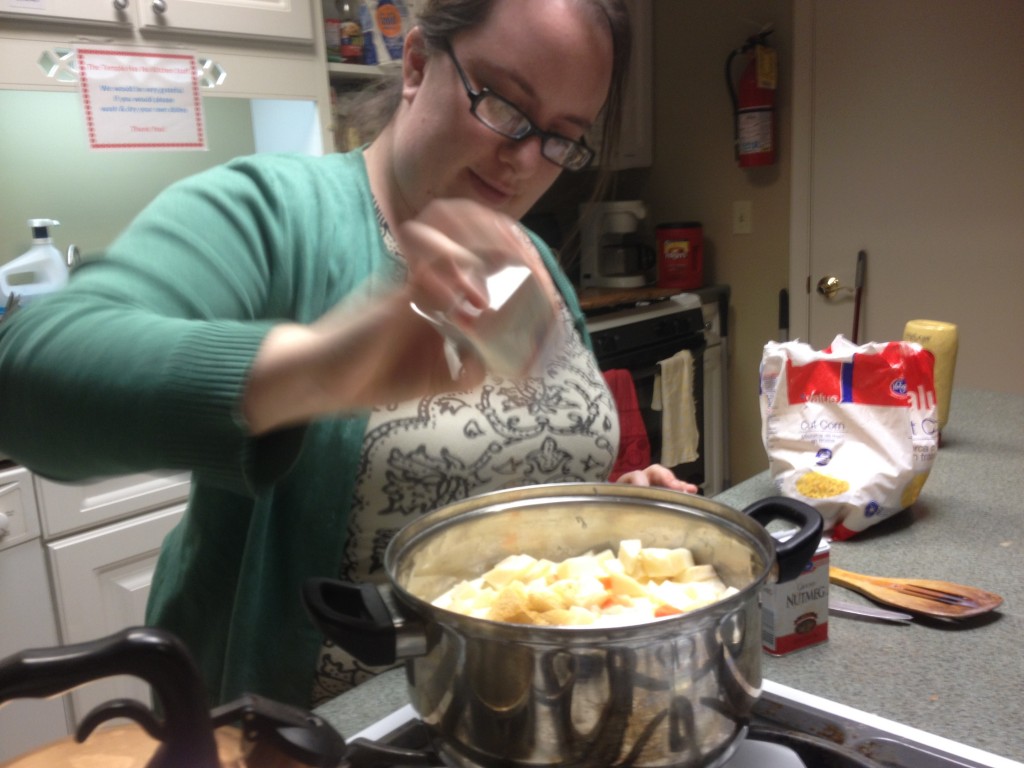 Then the dry herbs, such as Thyme, Bay, Oregano, Basil.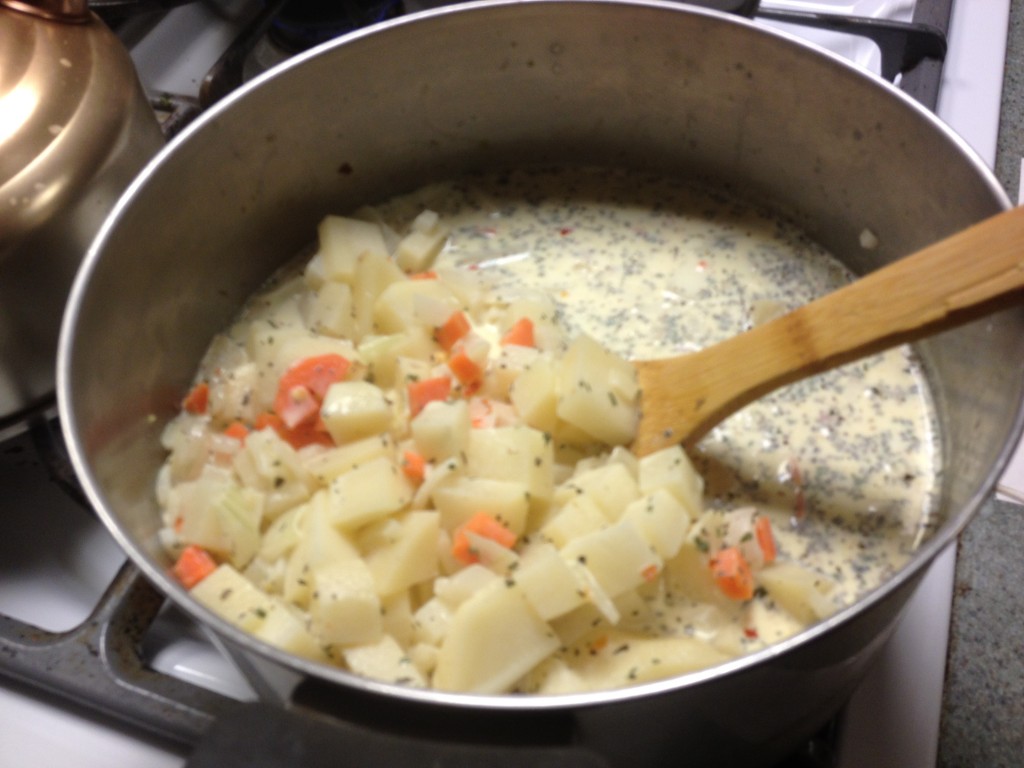 Finally, I add whatever moist flavoring I have on hand.  This time, for instance, I added Siriracha and spicy brown mustard.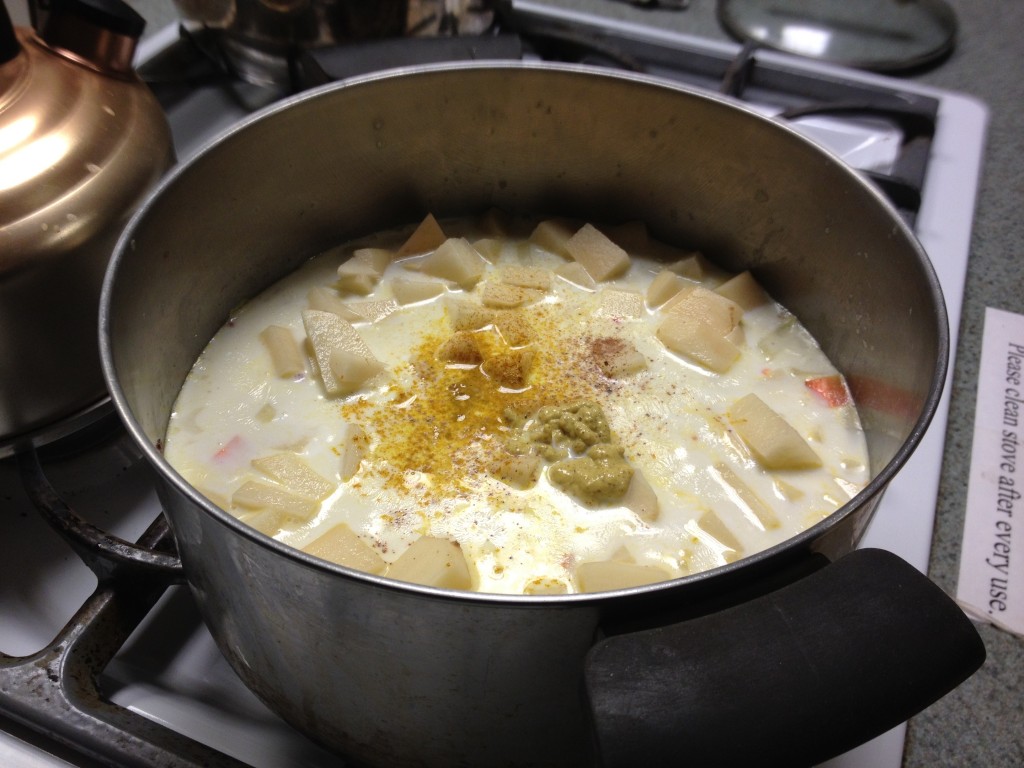 Finishin' Dah Chowdah
Stir everything up, turn the burner to a medium heat and then cover it with a lid.  The kitchen at the cultural center didn't have matching lids, but that doesn't matter much.  When I was in college, I would make a lid out of aluminum foil.  Just don't use your cat and you will be okay.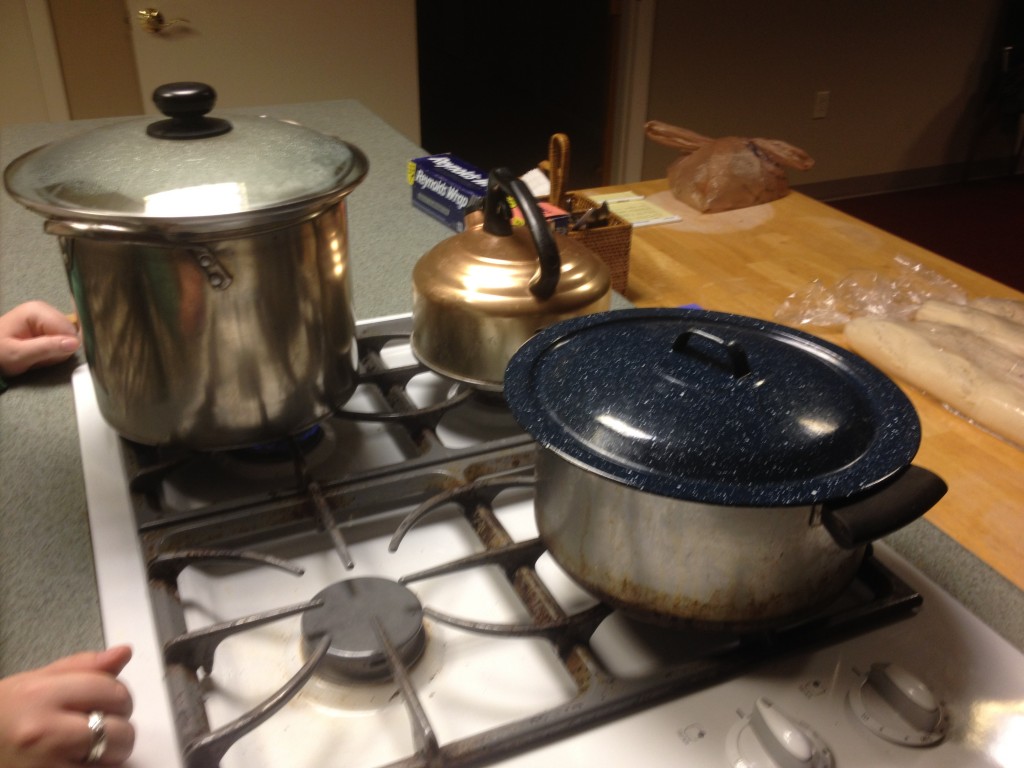 Keep an eye on this bad boy – That milk/cream mixture is going to want to burn to the bottom of your pot.  Look in at it every four or six minutes or so, and make sure to stir, getting the entire bottom of the pan with your implement of stirring.  The soup will be done when the potatoes are cooked through.  They should easily mash with a fork against the side of the pot.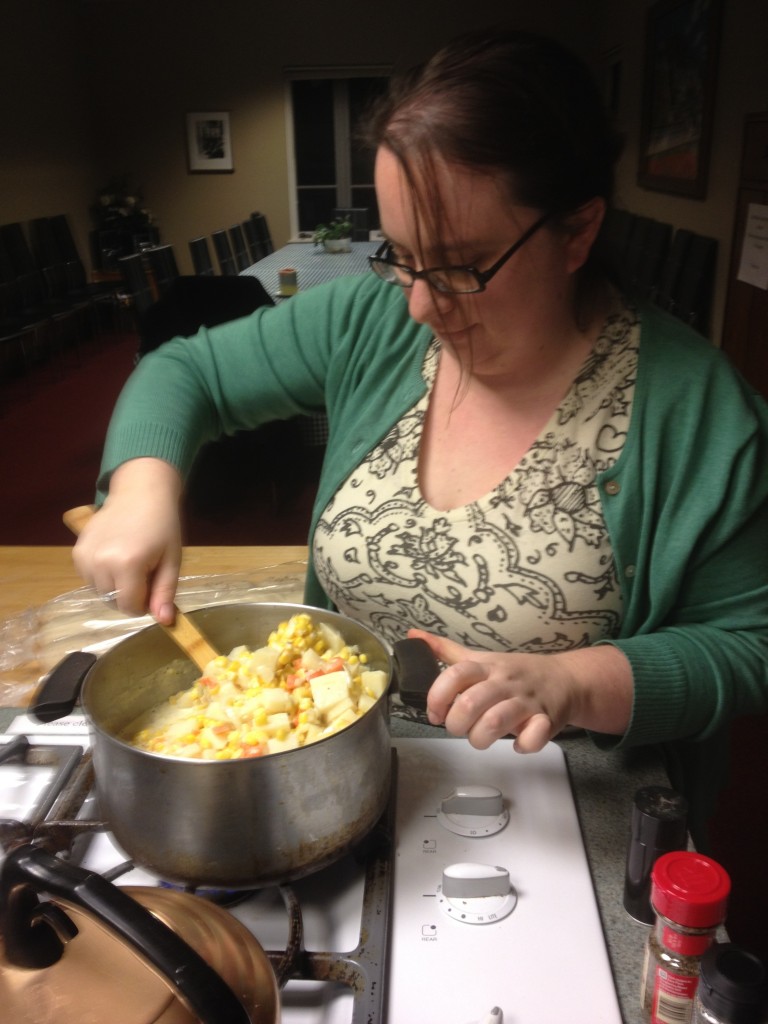 Lastly
Serve your chowder with warm bread, cheese or anything you like.  Enjoy.  Make sure to clean up when you are all done.