Today's post is brought to you by the good folks at Bed Bath and Beyond because they are the only store on this entire earth that still stocks flour sack towels.  I was going to stretch this and make it a hanging canvas, but my strainer stock did not come in on time.
I give you, the Sheet of Paper Towel.  It is an 8.5×11 piece of flour sack towel, with ink and brass grommets.  I have  been in love with this idea from the moment I had it.  Kyle suggests that I make some paper sheets for the bed, which I think is brilliant as well, though it would take a lot more work.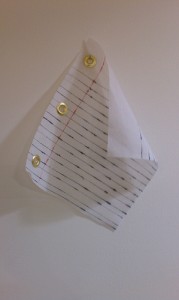 I am considering making another and stretching it on strainer stock when that comes in.  Does repeating break the rules?  You tell me.